The University of Sussex
The University of Sussex is a leading research-intensive university established in August 1961. Over 75% of research activity at Sussex is categorised as world leading or internationally excellent in terms of originality, significance and rigour. Sussex has an excellent international reputation and is ranked in the top 30 UK universities (The Guardian University Guide 2019 and The Complete University Guide 2019), and in the top 200 (161st) in the world (Times Higher Education World University Rankings 2019). In 2019 the QS World Rankings by Subject ranked six of Sussex's subject areas in the top 100 universities worldwide, including 1st in Development Studies.
The University has a dynamic and thriving research culture with strengths across the sciences, arts, social sciences and medicine with a focus on interdisciplinary research. It currently has over 17,000 students and 2,100 staff from all over the world including around 1,000 teaching and research staff, of which over 300 are research-only. It has had 3 Nobel Prize winners, 14 Fellows of the Royal Society, 12 Fellows of the British Academy and a winner of the prestigious Crafoord Prize on its faculty.
The UK contribution to EUROSHIP will be located at the University of Sussex Business School in the Research Hub: Future of Work. It has a strong research culture drawing on economics, science, technology and innovation studies, digital technologies and human resource management. A distinctive characteristic of the Business School across its research profile has been an engagement with public policy.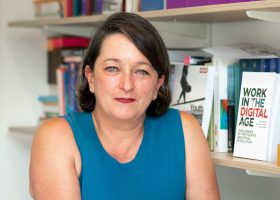 Jacqueline O'Reilly, University of Sussex, UK
I am Professor of Comparative Human Resource Management at the University of Sussex Business School and Co-Director for the ESRC Digital Futures at Work Research Centre (2020-2024)(www.digit-research.org). I am the UK lead on the EU Horizon 2020 EUROSHIP project on social protection in Europe (2020-23). After completing my doctorate at Nuffield College, University of Oxford on an Anglo-French comparison of employment practices in the banking sector, I worked for ten years at the Social Science Research Centre Berlin (WZB), Germany. I have also held teaching and research posts at Sciences Politiques in Paris, and at London, Manchester and Brighton Universities in the UK. In 2000, I was awarded a Jean Monnet Research Fellowship at the European University Institute in Florenceand in 2019 was awarded a Fellowship of the Academy of Social Sciences (FAcSS). I was coordinator of a EU FP7 funded large-scale research project STYLE: Strategic Transitions forYouth Labour in Europe (www.style-research.eu) (2014-17) and the UK lead on the EU Horizon 2020 project NEGOTIATE on Overcoming early job-insecurity in Europe (www.negotiate-research.eu)(2015-18). I am an Evaluation Rapporteur for the European Commission Horizon 2020 researchprogramme. I have acted as an advisor to the ILO Work4Youth programme funded by TheMasterCard Foundation; and twice as an evaluator for the German Excellence Initiative of the Deutsche Forschungsgemeinschaft (€151 million investment) My most recent research focuses on:
the digital transformation of work
international comparisons in political economy
gender and ethnic labour market transitions across the life cycle for youth, parents and older workers.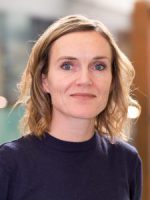 Rachel Verdin, University of Sussex, UK
Alongside my role as a research fellow on the EUROSHIP project I am in the final year of doctoral study. Funded by the University of Sussex Business school my interdisciplinary research evaluates the effectiveness of both legislative and organisational efforts, targeted at gender pay inequality.
I have committed my professional and educational endeavours to the pursuance of efforts directed at inclusion and equality. During the first part of my career I acquired sixteen years' experience of working and campaigning within a trade union environment. I held responsibility for supporting, representing and negotiating on behalf of members across a wide range of industries.
My research interests are in social policy, law, the world of work and diversity and inclusion.