The EUROSHIP project will produce a range of different materials to disseminate research results to a wide audience. The EUROSHIP Working Paper Series will present the scientific output of the project. In the EUROSHIP Policy Briefs we summarise project results and offer specific policy recommendations for decision-makers and civil society at the European and national level.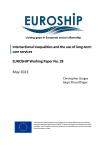 EUROSHIP Working Paper No. 32
Intersectional inequalities and minimum income schemes: Do last resort safety nets help some people more than others?